Bonded Leather
What is bonded leather ?
100% recycled leather fibers
It is made of off-cuts and wastage of mainly from pre-production natural leather scraps of industrial work products of factories and all waste PET bottles from all around the world and smashing them into small pieces to melt into fibres.Bonded leather can feel and smell like real leather, but the difference is going to come with how they look. Bonded leather will have a consistent texture, while genuine leather will have some imperfections.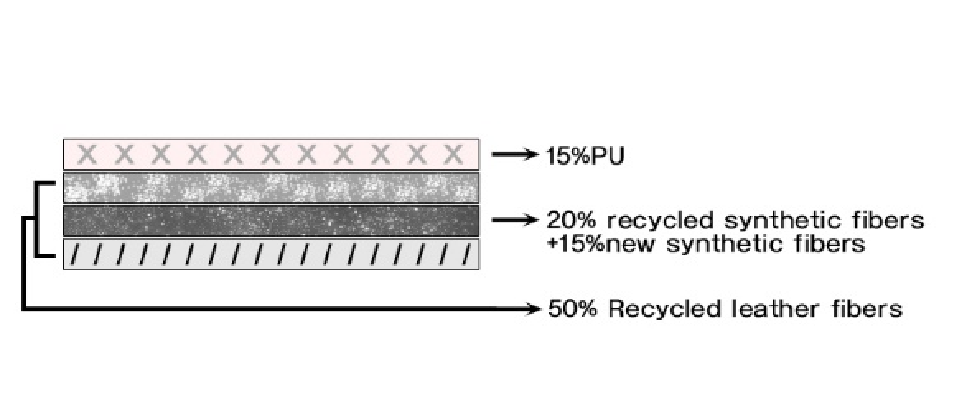 How it`s made ?

Step 1:    The Base Materials of ELFA leather is leather shavings and trimmings.
Step 2:  Leather shavings and trimmings undergo a fiberisation process which shreds and upgrades them into fine usable fibres .
Step 3:  Leather fibers are formed into two layers on both sides of a micro textile core.They are fastened with high pressure water jets rather than chemical adhesives.
Step 4: After color impergnation ,solvent free pu finish coats the leather and a release paper template gives the surface a leather effect grain.
Step 5:  After final inspection and quality assurance it is ready to be rolled . On a roll the leather is more functional to use and will produce less cuttings and wastages in the further use .     
Production Process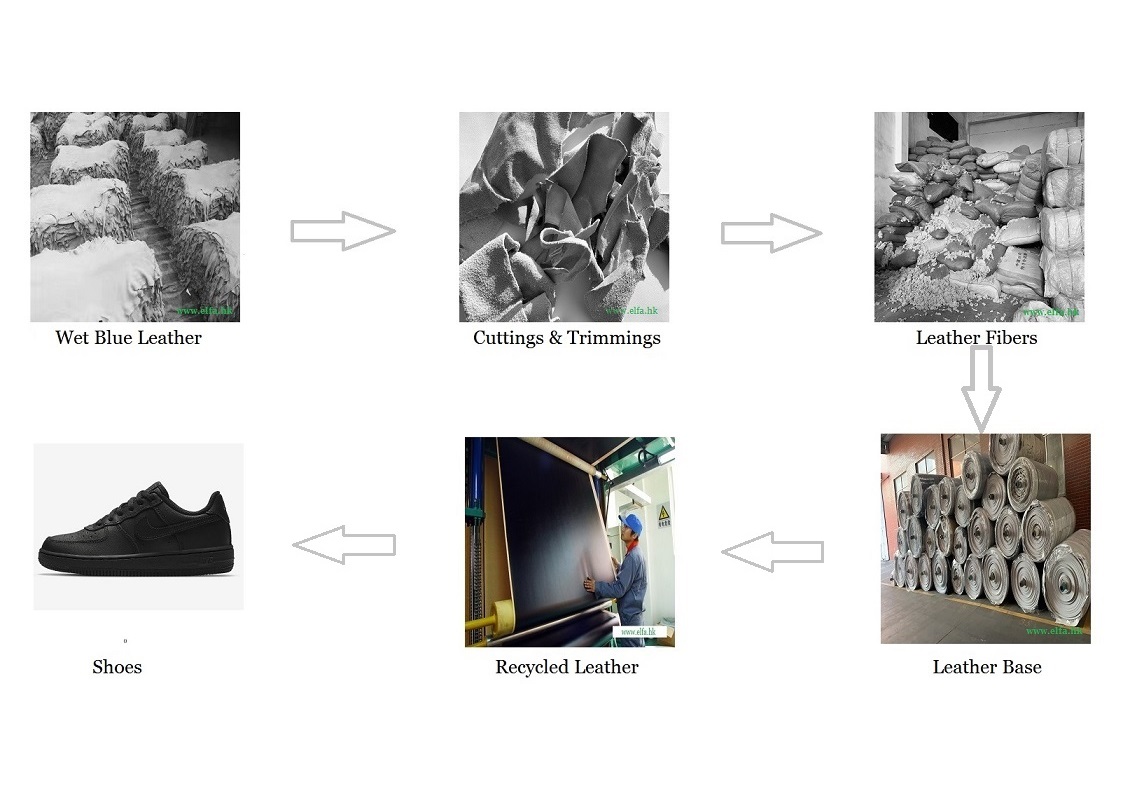 The Best Alternative To Traditional Leather ( Bonded Leather )
Traditional leather is being rivalled by manmade alternatives. The latest in this new generation is bonded leather.
Made from discarded 'wet blue' leather off-cuts that normally end up in landfill, bonded leather saves needless waste. Plus it's available to cut from the roll. So Unlike leather hides there's minimal wastage and, of course, lower material costs. Not all bonded leathers are the same…
Bonded leather comes in numerous forms. Most rely on adhesives and resins to bond the leather fibres together to form the material. However, bonded leather from ELFA leather is different. The ELFA leather patented process uses no chemicals and resins whatsoever but just water alone. With its strong eco credentials, high performance and low cutting wastage, bonded leather from ELFA leather enterprise is fast becoming the material of choice for the footwear, leather goods, upholstery and transport sectors.
Why use bonded leather as an alternative to traditional leather?
Bonded leather has all the natural benefits of traditional leather plus it is more eco-friendly, saves wastage, is lighter (for less fuel consumption), more durable, both cheaper and easier to keep clean and can be relied on for consistency of colour and texture. For Example as below :
LEATHER HIDES
1 tonne of leather….
….generates only about  255kg of finished, tanned leather…
…the remainder….¾ of the tonne is waste.
It takes approximately 4 leather hides to furnish the interior of 1 car 
BONDED LEATHER
Trimmings and shavings (the raw material of composition leather) accounts for around 30% of a tannery's waste.
Bonded Leather VS Traditional Leather
 Bonded Leather
Traditional Leather

Less wastage,more cost effective

Cut from rolls 1400mm wide.Length is long

 Leather hides(at widest point): 914.4mmLength:2286mm
Resistant to cracking,tearing and puncturingIts unique core reinforment textile provides

high performance,improving its quality and

feel.

Can be prone to cracking ,tearing and

puncturing, especially split leather

More durable – Scuff and scratch resistant

thanks to an easy to keep clean pu coating.

Prone to scuffs and scratches.

Up to 50% lighter – Helping transport

Companies save on fuel consumption and

reduce their carbon footprint.

Weight disadvantage, particularly to

transportation applications.

Uniform texture – Made from leather fibers

and given an artificial pattern for a consistent

Flawless finish and feel.

Inconsistent texture – Made from hides which

can be looser and more stretchable in the

Belly and flank areas and relatively tight

Across the backbone.

Uniform shade – Made from leather fibers

pigmented for a consistent flawless color.

Inconsistent Shade – Each hide is different

and has a unique grain texture.This results in

the dyes and finishes penetrating the grain in

Varying degrees.

More flexible and easier to sew.
Can be fairly rigid limiting applications

Wipe clean with a damp cloth – No chemical

cleaners or costly cleaning maintenance

Needed to continually look good.

Cleaning detergents and leather restorative

products needed as well as the associated

time and costs.

Recycled Leather is a better value

alternative to traditional leather

Leather is expensive,pricing itself out of

Large-scale upholstery applications in

Particular.
Why Bonded leather can be better than traditional leather?
Bonded leather outperforms traditional leather in several key areas.
Price
Compared with Traditional Leather hides , price is more competitive . 
Environmentally friendly 
Made from discarded wet blue leather off-cuts that normally end up in landfill ,together with high pressure water jets to force the natural leather fibers through an integral textile reinformancement core.It is a clean eco-friendly material ,no chemicals (no adhesives ,no resins), what`s more ,to reduce the pollution of wet blue leather hides` cuttings and trimmings to environment.
Higher Cutting Yield
More cost efficient for many applications, cut from a roll not from hides for less wastage and reduced costs  ( Bonded leather is supplied in rolls resulting in only 5% cutting wastage compared to up to 40% wastage for leather hides .)
Safety Fire Proof standards 
Excellent flame retardancy endorsed by British and European fire and safety standards.
Better for product consistency
Manufactured from leather fibres so unlike leather hides has no natural defects and results in minimal batch-to-batch variation for a flawless finish.
Customisable design options
Bespoke colours are available plus various grains and the ability to emboss with company or brand logos.
Significant fuel savings
Up to 50% lighter than traditional leather,Bonded leather is critical in helping transport applications to lower emissions, fuel consumption and reduce their carbon footprint.
Reduces landfill costs 
Less wastage reduces landfill levies 
High durability
Bonded leather`s reinforced textile core enables the leather to resist tearing and gives it greater elasticity. Ideal for heavy use applications from passenger seating to handbags and wallets.
Easy care
Simply wipes clean with a dampened cloth, thereby avoiding the need for costly cleaning products and maintenance.
Protect Animals
To reduce the killing of animals ,conforming to the policy of Animal Protection Countries and Organization.
Bonded Leather Experts
Made from recycled leather off-cuts, it`s the best performing, eco-friendly and economical alternative to leather on the market today. And unsurprisingly, its use is widespread and growing. Driving its worldwide success is pioneer and leading expert in the field ELFA leather.
ELFA LEATHER HAS WORLDWIDE ACCLAIM
The company operates from its production plant in Wuxi CN, where it exports its Products to Asia, United States, Europe, Taiwan, India, and internationally.Leading international brands and companies use recycled leather from ELFA Leather .
Its groundbreaking bonded leather alternative has already found its way into the interior upholstery of major airline fleets, and many bus and coach operators. The unique material has been adopted by leading retail brands for footwear, as well as establishing itself as the eco-friendly material of choice for leather goods and both domestic and commercial upholstery.  
ELFA Leather  ECOLOGICALLY SOUND clean tech manufactureEvery part of ELFA Leather`s production is set out to minimise resources. From sustainable sourcing through to closed loop manufacturing and waste reduction during cut and sew operations.
ELFA Leather`s unique patented process employs high-pressure water jets to force the recycled leather fibres through an integral textile reinforcement core.It`s a process that has major environmental advantages over conventional bonded leather, as it uses no chemicals. Its process is a continuous closed-looped system with 95% of water recycled.
ELFA Leather is available to cut from a roll 1.4m wide (55″), significantly saving on wastage compared to hides. With its automated stack cutting ELFA Leather also provides faster processing with up to 90% cutting yields. ELFA Leather allows for bespoke production. Its methods are able to be adapted to the specific performance requirements of each industry sector and the precise user application: whether it is hand sewing by highly skilled operatives, computer controlled multi-layer cutting or highly automated manufacture.
Leather and the Environment
Waste not, want not
The leather industry as a whole is responsible for generating huge amounts of waste as a by-product of its production. Take a tonne weight of hide, for instance, used to produce traditional leather.One ton generates up to 255kg of finished, tanned leather but almost three-quarters of a tonne is classed as waste. Meanwhile, harmful oil-based chemicals are used in the creation of bonded leather. However there is a corner of the industry that is geared to forging a more ecologically responsible method of leather production at every stage.  
Bonded leather:
Saving waste and resources every step of the way
A leading supplier of recycled leather, ELFA Leather , has pioneered an environmentally friendly leather fibre material that has already made its way into many everyday products and applications, from airline seats to shoes. It takes off-cuts, shavings and trimmings, which are usually discarded by tanneries and would otherwise go to landfill, and recycles them to make its composition leather, ELFA Leather.
No chemicals needed
Another crucial difference between these methods and those employed by manufacturers of conventional bonded leather is that no chemicals are used whatsoever in the process of bonding the leather fibres together to form a sheet of material. Just use water alone.
Using a high-pressure water jet process has major environmental advantages. The supplier`s carbon footprint is dramatically reduced as a result because there are no oil-based adhesives present in the process. ELFA Leather, for instance, produces no harmful wastewaters in the manufacture of its composition leather. Their process is a continuous closed-looped system, with 95% of all water produced used in production being recycled.
Saving energy
In addition, product emissions at the ELFA Leather,plant in the form of solvents are thermally oxidated and the energy generated fed back into the manufacturing process. Its thermal oxidiser has cut natural gas use by between 50-70%.What all of this means for many leading companies is that the production methods of composition leather manufacturers such as ELFA Leather are able to be perfectly aligned with their own eco initiatives in cutting waste and reducing their carbon footprint.
Summary of composition leather's eco advantages
Up to 50% less CO2 emissions
Up to 95% recycled water in process
Up to 50%-70% natural gas usage
Less landfill
No adhesives in textile core
   Sustainability :
We are the people behind the sustainable leather alternative.We create what people want and what the planet deserves.There is no doubt that nature`s resources are limited .Over-consumption is taking its toll on our planet.And there is an urgent need to recycle more and waste less.So that`s exactly what we do ! A significant amount of leather is unused and often destined for landfill.We reduces that problem by recycling tonnes of leather hides rather than wasting them.
Our commitment to sustainability:
To minimise our environmental footprint and ensure we`re making efficient use of the world`s scarce natural resources,we focus on three key areas.Such as Increasing recycled content,Lowering carbon emissions,reducing use of earth`s scarce resources.
Why need Bonded Leather on the planet?
With the aggravation of environment pollution on the international agenda,combined with a focus on scarce resources and protecting animals,recycled leather has entered the scene as a force for good.What`s more ,now a lot of famous brands specifically have long sought sustainable materials from recycled fabric to recycled leather,for example ,Nike used recycled fabric for shoes,named flyknit,now they are using Bonded Leather,named flyleather. Recycled Leather`s partner with leading brands from all of the world to help them to create extraordinary products and memorable client experiences,while improving the sustainability.
Who is ELFA Leather ?
ELFA LEATHER is located in the ancient town of Wuxi city—-Changjing, east of Xizhang Expressway, south of Huning Expressway and Shanghai Airport,the traffic is very convenient.
We mainly produce a new sustainable bonded leather alternative to traditional leather in China since 2009.It is made from discarded wet blue leather off-cuts and synthetic fibers from bottles that normally end up in the landfill .It`s unique patented process employs high pressure water jets to force the recyclable leather fibers through an integral textile reinforcement core in a continuous closd-looped system with 100% of water recycled. It is a clean technology product using sustainable natural leather fibers and synthetic fibers, to save natural resources,to lower carbon emissions and to protect our planet.
We create what people want and what the planet deserves.We are the people behind the sustainable recycled leather alternative.We are on the way of social development of recycling and reusing all materials, saving scarce water resources, lowering carbon emissions and protecting the environment.We obtain the GRS certification, fully connecting with the international market, applying the TC certificate for customers timely, in line with the foreign customer to the material traceability request. The company's GRS series of products including recycled leather base,coated base,and finished recycled leather ( R-Leather), obtained a number of patent technical certificates, fully reflect the sweat and wisdom of production and R & D personnel.We have established a good cooperative relationship with NK, ASICS, PUMA, KAPPA, DECKERS, CAT, KUKA, CLARKS, K-Swiss, UGG, CAMPER, BALENCIAGA, ZARA, ARMANI , ect .
We never ignore the development of our empolyees in future and personal safety during the production.Every month we need to have a meeting together to summarize working plan for next month. Every season we need to do one time fire drill to strengthen our workers safety awareness.Every year we attend some exhibitions to promote our smart product bonded leather to clients.Meanwhile, it also provides more space for employees to show their talents.
In a word,we are proud of ourselves for doing some recycling products and in line with the development trend of human society.We are all working hard to protect the only planet we own. We believe that it will be better in future.   Come on ! Elfa Leather !