Recycled  Leather
Introduction:
No two leather hides are ever same and its the inconsistency of  the material that causes so much of it to be destined for landfill sites.We reduce that problem by continuously recycling tonnes of leather hides.Each roll of our recycled leather is made up to 50% more genuine leather composition and so far we`ve recycled enough of it to make more than 40 million pairs of shoes.
Personally, or professionally – we're all doing what we can to reduce our carbon footprint. Our factories have been designed from the ground up with sustainability in mind. The result is over 60% lower CO2 emissions comparing ELFA recycled leather to traditional leather. Since production began, we've saved enough CO2 to offset powering 40,000 homes for a whole year.
There's no doubt that nature's resources are limited. Over-consumption is taking its toll on our planet. Our resource-efficient production saves 50% more natural resources such as land and water. The water saving alone (by repurposing 95% of water used in the process) is enough to fill 20,000 Olympic size swimming pools.
What is Recycled Leather ?
ELFA Leather transforms leather manufacturing waste into a new life.
In the elfa leather company,we think that too many limited resources are being unnecessarily wasted in the only planet we live.We have a responsibility and mission to reduce this waste in our industry .Therefore,we have to create what people want and what the planet deserves.
Many industries have been using traditional leather in the world,but we don`t know only 25% of all leather hides are actually used.The rest go to landfill. This is where recycled leather comes in . We are able to evolve leather to become a more responsible ,desirable and superior performance material.
In short,Recycled leather is an innovative material made with up to 55% virgin leather fibers.It provides enhanced comfort and delivers the true meaning of luxury for the climate-conscious .   It gives customers a feeling of an upgrade with a premium material that looks and feels of traditional leather.
Engineered for the end of waste ( including leather waste and plastic bottles)
Imagine what can happen when waste is no longer wasted.
When the cycle of consumption transforms into an infinite loop.How should we face it ?
This is the reason why ELFA Leather is engineered for the end of waste.We are not only the end of leather waste to the landfill ,but also the end of the plastic bottles to the beach and oceans.Some animals in the ocean cannot be hurt by these plastic bottles.
Engineered for superior performance
Recycled leather is a 100% non-woven structure sustainable recycled material.During the revolutionary production process,we use high performance recycled synthetic fibers to enhance its performance.What`s more ,a superior performance lamination is being used on the recycled leather base in elfa leather company .So it is more abrasion&scratch resistant and more durable , thanks to controlled stretch it retains its shape better when it is in prolonged period of use.This means longer lifetime and fewer replacement needs.
How it`s made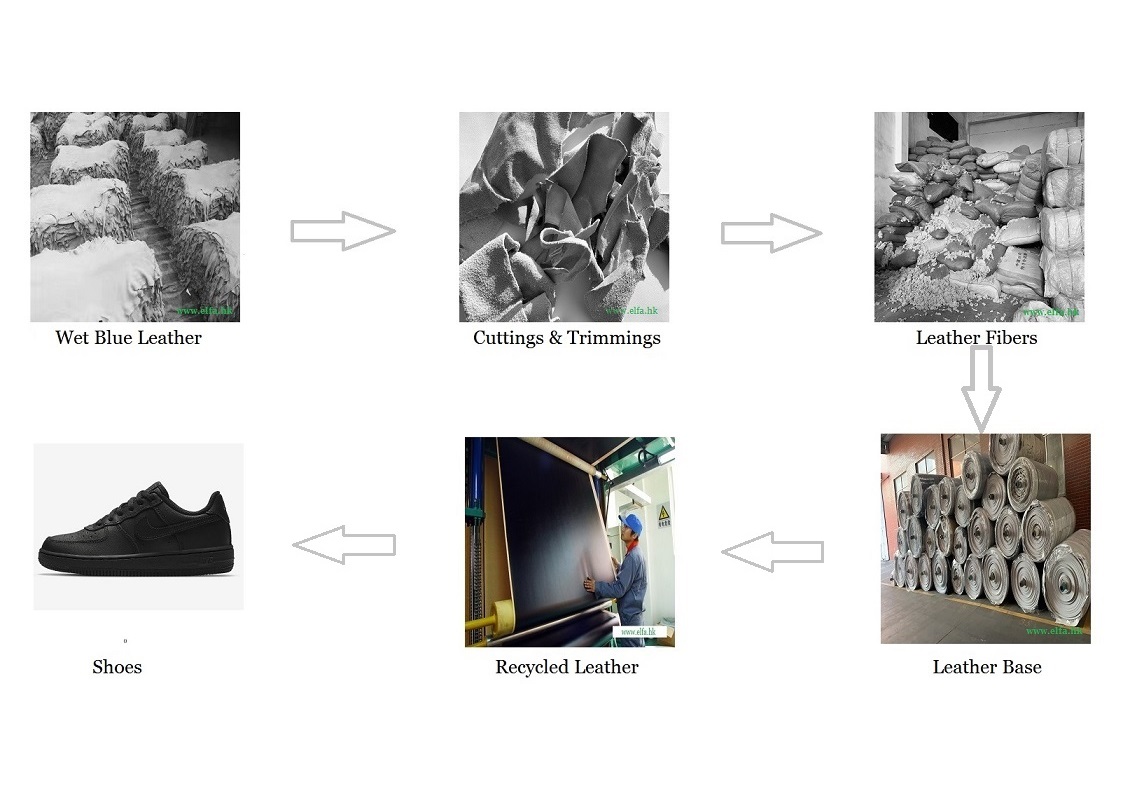 Why Recycled Leather commitment to sustainability ?
Leather Evolution—-Recycled Leather
Recycled Leather is the sustainable leather alternative to virgin leather.
Diverting leather waste from landfill+Lowering carbon footprint+Saving scarce water resources
Engineered for protecting the only planet we live
Saving limited natural scarce resources (land and water), Lowering carbon emissions and Increasing recycled content.
Recycled Leather`s innovated production process tranforms leather into special recyclable materials while achieving significantly environmental protection.Recycled Leather reduces leather waste,increases recycled content,saves the scarce water resources,lowers carbon footprint,intensifys performance,and enables brands to create extraordinary products and memorable customers experiences while improving sustainability.
  Sustainability :
We are the people behind the sustainable leather alternative.We create what people want and what the planet deserves.There is no doubt that nature`s resources are limited .Over-consumption is taking its toll on our planet.And there is an urgent need to recycle more and waste less.So that`s exactly what we do ! A significant amount of leather is unused and often destined for landfill.We reduces that problem by recycling tonnes of leather hides rather than wasting them.
Our commitment to sustainability:
To minimise our environmental footprint and ensure we`re making efficient use of the world`s scarce natural resources,we focus on three key areas.Such as Increasing recycled content,Lowering carbon emissions,reducing use of earth`s scarce resources.

sustainability recycled leather
Why need Recycled Leather on the planet?
With the aggravation of environment pollution on the international agenda,combined with a focus on scarce resources and protecting animals,recycled leather has entered the scene as a force for good.What`s more ,now a lot of famous brands specifically have long sought sustainable materials from recycled fabric to recycled leather,for example ,Nike used recycled fabric for shoes,named flyknit,now they are using recycled leather,named flyleather. Recycled Leather`s partner with leading brands from all of the world to help them to create extraordinary products and memorable client experiences,while improving the sustainability.
What is properties of  Recycled Leather?
1:100% Sustainable recycle : 55% recycled natural leather fibers+25% reyclable synthetic fibers+20% recycling pu coating
2:Maximised processing efficiency :Width is 54" ,about 25 meters length each roll. It is easy to cut and sew ,save labor cost and time.
3:No Adhesives: Recycled Leather is a clean technology product,the surface is eco friendly water pu coating,backing side is sustainable recycled leather fibers.
4:Highly Durable: Recycled Leather uses 100%nonwoven structure production,resistant to wear and tear.
5:Light Weight:Recycled leather is made from leather fibers and synthetic fibers.Not all leather fibers.It`s 40% lighter than traditional leather.
6:Low Maintainence: The surface is eco friendly recycling water pu coating.It is easy  to clean and maintain.
7:Commitment to The Planet: Reducing leather waste from the landfill ,saving 90% scarce water resources,lowering 60% carbon footprint.
8:Bespoke customising opportunities: Color ,texture,thickness,touching feeling,supple and gloss are all bespoke .
Recycled Leather VS Traditional Leather
Recycled Leather
Traditional Leather

Less wastage,more cost effective

Cut from rolls 1400mm wide.Length is long

 Leather hides(at widest point): 914.4mmLength:2286mm
Resistant to cracking,tearing and puncturingIts unique core reinforment textile provides

high performance,improving its quality and

feel.

Can be prone to cracking ,tearing and

puncturing, especially split leather

More durable – Scuff and scratch resistant

thanks to an easy to keep clean pu coating.

Prone to scuffs and scratches.

Up to 50% lighter – Helping transport

Companies save on fuel consumption and

reduce their carbon footprint.

Weight disadvantage, particularly to

transportation applications.

Uniform texture – Made from leather fibers

and given an artificial pattern for a consistent

Flawless finish and feel.

Inconsistent texture – Made from hides which

can be looser and more stretchable in the

Belly and flank areas and relatively tight

Across the backbone.

Uniform shade – Made from leather fibers

pigmented for a consistent flawless color.

Inconsistent Shade – Each hide is different

and has a unique grain texture.This results in

the dyes and finishes penetrating the grain in

Varying degrees.

More flexible and easier to sew.
Can be fairly rigid limiting applications
Wipe clean with a damp cloth – No chemical

cleaners or costly cleaning maintenance

Needed to continually look good.

Cleaning detergents and leather restorative

products needed as well as the associated

time and costs.

Recycled Leather is a better value

alternative to traditional leather

Leather is expensive,pricing itself out of

Large-scale upholstery applications in

Particular.
Who is ELFA Leather ?
ELFA LEATHER factory is located at changjing town wuxi city near shanghai ,covering about 80000 squares meters and 300 workers manufacturing a new groundbreaking innovative sustainable recycled leather material for furniture,footwear,automotive and fashion leather goods.We are building big here,while others are still talking big.We are the people behind the sustainable leather alternative to the natural leather.We are creating what people want and what the planet deserves.Therefore,we are very pround of what we are doing now.
————————————————————————————————————————————————————————————————————————————–
We mainly produce a new sustainable recycled leather alternative to traditional leather in China since 2009.It is made from discarded wet blue leather off-cuts and synthetic fibers from bottles that normally end up in the landfill .It`s unique patented process employs high pressure water jets to force the recyclable leather fibers through an integral textile reinforcement core in a continuous closd-looped system with 100% of water recycled. It is a clean technology product using sustainable natural leather fibers and synthetic fibers, to save natural resources,to lower carbon emissions and to protect our planet.
We are on the way of social development of recycling and reusing all materials, saving scarce water resources, lowering carbon emissions and protecting the environment.We obtain the GRS certification, fully connecting with the international market, applying the TC certificate for customers timely, in line with the foreign customer to the material traceability request. The company's GRS series of products including recycled leather base,coated base,and finished recycled leather ( R-Leather), obtained a number of patent technical certificates, fully reflect the sweat and wisdom of production and R & D personnel.We have established a good cooperative relationship with NK, ASICS, PUMA, KAPPA, DECKERS, CAT, KUKA, CLARKS, K-Swiss, UGG, CAMPER, BALENCIAGA, ZARA, ARMANI , ect .
We never ignore the development of our empolyees in future and personal safety during the production.Every month we need to have a meeting together to summarize working plan for next month. Every season we need to do one time fire drill to strengthen our workers safety awareness.Every year we attend some exhibitions to promote our smart product recycled leather to clients.Meanwhile, it also provides more space for employees to show their talents.
In a word,we are proud of ourselves for doing some recycling products and in line with the development trend of human society.We are all working hard to protect the only planet we own. We believe that it will be better in future.   Come on ! Elfa Leather !